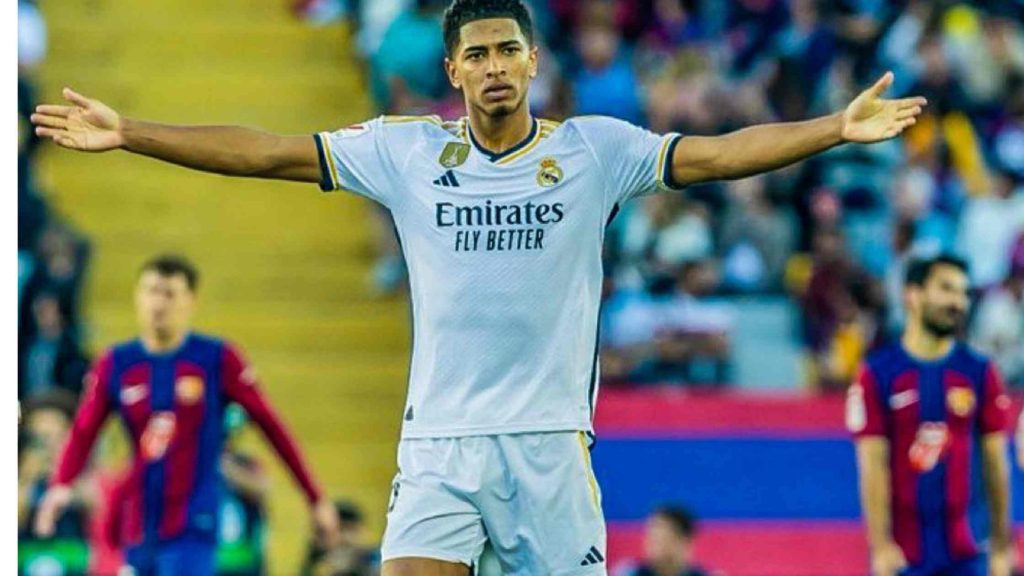 Jude Bellingham scored two goals in the latest El Clasico Real Madrid vs Barcelona to give Los Blancos an important 2-1 win against Barca.
The English midfielder's brace canceled out an early Barcelona goal at Estadi Olimpic Lluis Companys.
Therefore, Barca have their first loss in La Liga this season and fall to third on the table as Madrid cruises their way to first.
At first, Barcelona looked promising as they took an early lead through Ilkay Gundogan's goal in the sixth minute of the match.
There were no more goals in the first half as both teams struggled to get through their opponent's goalkeeper.
Then Bellingham scored from a thunderous shot in the 68th minute.
Barca goalie Marc-Andre ter Stegen nearly got a hand to it, but the power behind it was too much.
Later, Bellingham scored the game-winner in stoppage time.
Dani Carvajal crossed the ball from the right side and Luka Modric got a toe to it.
The ball became bouncing and Bellingham kicked it beyond Ter Stegen's reach.
Real Madrid's No. 10 has scored 10 league goals and conquered El Clasico at his first attempt.
No wonder Jude Bellingham is already nominated as the best transfer this season.
After losing the Real Madrid vs Barcelona match, Barca has a four-point gap to the league leaders after 11 games.
It's not a catastrophe, though, but it highlighted that there is still work to be done for Xavi.
Read also:
Bayern Munich vs Barcelona, Head to Head dan Prediksi Line Up
Braga vs Madrid, El Real Menang 2-1